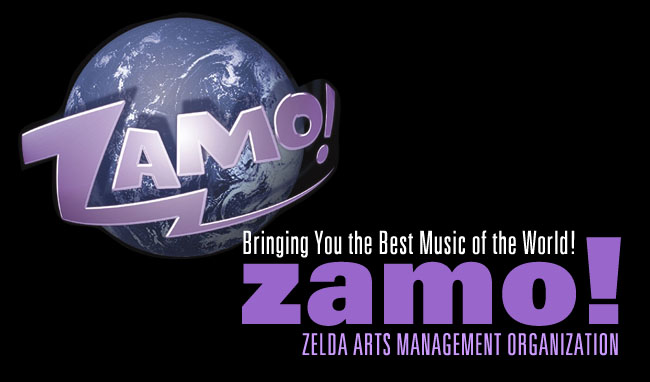 EMAIL ME
To book any of these artists or for more information
CLICK HERE
To visit my new blog "Artist Soul Speaks"
---
ZAMO! (Zelda Arts Management Organization) is a full service artist management agency that provides highly personalized representation for a multi-cultural mix of world-class musical artists to a wide range of presenters.
Our agency goal is to support the full development of each artists' career and to make every performance a success by facilitating the best possible match of talent and venue.
We support our bookings with publicity, advertising and other promotional services and provide specially designed educational programs, workshops and clinics in order to help develop and educate audiences. ZAMO! also takes an active role in the field by producing programs such as the 2002 Voices Festival event "Presenting Latin Music" at the Arts Presenter annual conference.
---
---

Rebecca Joy Fletcher

Performer, Playwright, Cantor and Educator:

Rebecca Joy Fletcher is an artist of many talents: she boasts a powerful voice, versatile musicality, serious acting chops, a magnetic stage presence, sex appeal, and a life-time of exposure to Jewish culture and thought. Rebecca's four original works of cabaret and theater include: KLEYNKUNST!, City Dream, A Little Yearning and Degenerate

Her performances appeal to all who crave vital, transformative new work.

Rebecca's Website


---

Anath

A Left Bank noir fantasy.
A journey into the many forms of love.
ANATH'S DARK LULLABY


CLICK BELOW FOR VIDEO

Anath at City Winery NYC January 2009



With Anath's introspective and personal Dark Lullaby (her soon-to-be-released CD), she shifts to an entirely new and intimate sound -- exploring themes of love, loneliness and longing. Recorded in New York and Chile with pianist, composer and producer Pablo Vergara (her husband), this new project recalls influences such as the psychedelia of Mazzy Star, the noir rock of Elysian Fields, and the feminist punk of PJ Harvey. She contributed songs to the "La Verite Si Je Mens II," one of France's biggest box office blockbusters for the year 2001. She recorded two albums with French gypsy pop band Fiesta Mora, and recorded the original song "Alabina," which then became an international smash hit. She has toured Europe, Morocco, Egypt, and Tunisia, and is now based in New York.

Anath's Website


---

Eric Alabaster

Paghel Meshugah:
The Loco Love Music of Eric Alabaster

"...a truly interesting and entertaining blend of American Jazz, Caribbean, Indian and Pakistani and other world music. Alabaster's years of playing with a wide range of artists from throughout the globe has influenced his effort... should please adventurous listeners tired of the same listening
experience."
- JazzChicago.net

Eric's Website


---

Hip Hop Hoodios

"This is a Latino/Jewish Hip Hop band! If you imagine "Havana Gila" with a merengue beat along with funny, irreverent and provocative lyrics in Hebrew/Spanish/English - you've got the picture OY!"

Hoodios Website


---

Klezska

Klezska combines the music, melodies and rhythms of Jewish and Israeli music with the style and substance of traditional Jamaican genres from early ska through rock-steady reggae and dancehall.

Klezska Website


---

Andrea Brachfeld

"My main complaint about Andrea Brachfeld's 'Back With Sweet Passion' CD is that it didn't come with an oven mitt. This record cooks from start to finish."

Jason Crane, Host of "Traffic Jam" 90.1 WGMC
---

Christian Howes

"Rising Star" - Ranked #2 among violinists

Downbeat Critics Poll for the 4th consecutive year!
---

Dr. Chris Washburne/SYOTOS

"He rarely wastes a note, using silences for great dramatic effect, often coming in just ahead of or just behind the beat. The textures of his tone range from soft to a gutbucket sweaty growl."

Steve Groark, The Capital Times
---
Judith Z. Miller, Director of ZAMO!

In 2002, Judith co-produced the performance/panel discussion "Presenting Latin Music" at the Association of Performing Arts Presenters National Conference. Prior to coming to New York in 1995,

Judith was the Associate Director of Five Corners Music, an artist booking agency in Maryland. She co-founded The Fine Line Actors Theatre (formerly Earth Onion Women's Theatre), in Washington, DC funded in part by the NEA. She served as its Executive Director and as an actor and teacher with the company. She created, produced, taught and performed in a series of special constituency projects addressing the needs of underserved populations, including its unique Prison Project.

She has published articles in Inside Arts, The Washington Post, American Theatre magazine and others, and was the recipient of an Arts Management Fellowship to the NEA Theatre Program. Judith is also a poet, visual artist and jewelry designer who works with organic materials. She now resides in Brooklyn, NY with her Harlequin Great Dane, Zuli.

For more information please contact Judith Z. Miller at ZAMO!
718-638-2898
Judith@zamo-zamo.com

(c) 2009 Zelda Arts Management Organization